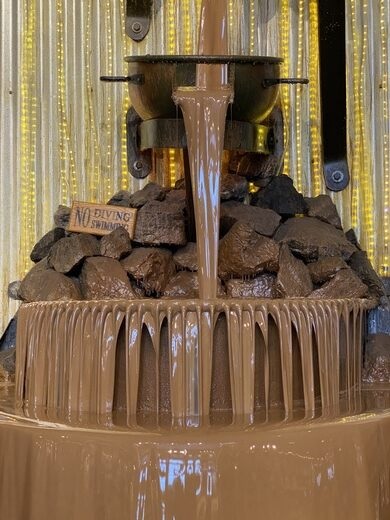 For those of you planning to travel to Alaska to experience the cold, now you have another reason to include Alaska on your must-visit list. Alaska is home to the world's largest chocolate waterfall. Situated in Anchorage, this spectacular chocolate waterfall is famous for pumping more hot cocoa than anywhere on earth.  This 20-foot high wonder is located inside the Alaska Wild Berry Park Store and gives you a peek of how Willy Wonka's chocolate waterfall may have looked like.
What makes Alaska Wild Berry Park Store such a favorite tourist destination?
The chocolate waterfall is made of many melting pots which spill the liquid chocolate into the ones below it until the stream comes to a grand fountain. This ultimately settles out into one huge pool of candy. This mind-blowing attraction is one of the main reasons why families flock to the Alaska Wild Berry Park Store. You get to taste a sumptuous variety of chocolates here and even have a look at how chocolates are made. It will transport you into the world of Charlie's Chocolate Factory from your childhood days. You can spend hours simply gazing at the grand chocolate waterfall and feast on all the different kinds of delicacies on offer.
The chocolate waterfall was built in 1994 at the time this flagship store had been constructed. Peter Eden built this store and he wanted to do something that would make it extra special and more alluring. This was done to bring in more tourists because Anchorage was until that time not a popular tourist destination. Keeping this in mind, the artist Mike Sirl came up with the idea of a chocolate waterfall.
This chocolate waterfall makes about 3000 pounds in chocolate, with genuine copper candy kettles and a mixing system. The hot chocolate gushes out of a fountain head and cascades down the kettles to settle down finally in the candy pool. This real chocolate is not for eating; it is only for display. The chocolate has been donated by Guittard Chocolate Company and Peter's Chocolate Division of Nestle Foods. Besides the chocolate, Alaska Wild Berry items are exclusively sold throughout Alaska and these are created on-site at their factory in Anchorage.
The main chocolate factory is built behind glass and this allows visitors to watch the makers create these delectable products. Enrobing is done to coat marshmallows and berries in chocolate which shoppers can later buy fresh from the store. Visitors can choose to explore 4 kitchens here, namely, Hot Kitchen, Jam and Jelly Kitchen, Molding Room, and Candy Kitchen. You can even get free samples at these kitchens.
Besides treating yourself to mouthwatering samples in their kitchens, you can take a walk through the park there. This area is laden with picnic tables where visitors can soak in the breathtaking views as they snack on the treats. The pleasant background sound of the chocolate as it comes out of the fountain is the icing on the cake. The ambience is perfect for families visiting with young kids.